29 Questions About Rhinoplasty: Part 1
Posted February 28, 2017 in Frequently Asked Questions, Nose Surgery, Plastic Surgery Advice, Rhinoplasty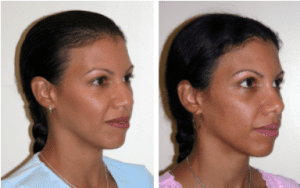 Are you interested in nose surgery but would like to learn more before you take the plunge? Here are the answers to some of your burning questions about rhinoplasty.
1.  Can I get rhinoplasty if I have a cold?
You should not undergo nose surgery if you have a cold. Swelling of the nasal passages, a bronchial infection, and other common problems with respiratory illnesses can cause complications with your procedure. It is best to postpone your procedure until you are healthy.
2.  Can I get rhinoplasty if I am pregnant?
You should not undergo rhinoplasty or any other elective surgery while pregnant. To do so would put your unborn child at risk. No reputable surgeon would perform rhinoplasty on a pregnant woman.
3.  Can I get rhinoplasty without scars?
The open rhinoplasty technique leaves a small scar at the base of the nose, while the closed rhinoplasty technique hides all scarring inside the nostrils. Therefore, a scarless option (closed rhinoplasty) is available, but whether you qualify for this approach must be determined during your personal consultation. Even if you must undergo open rhinoplasty to achieve your desired results, the scar is usually very inconspicuous.
4.  Can I get rhinoplasty with a nose piercing?
Having a nose piercing won't affect nose surgery, but you will have to remove the jewelry piece for the procedure. You will not be able to put jewelry back in your piercing at least until after the splint has been removed approximately one week after surgery. There is a possibility that you may need to re-pierce your nose after rhinoplasty if the hole has closed or if tissue containing any part of the hole has been removed. Dr. Boyd provides this service if it is required.
5.  Can rhinoplasty make me more attractive?
Rhinoplasty fundamentally changes your appearance, though in a subtle way. With the proper surgeon, rhinoplasty can improve facial harmony and enhance your appearance and attractiveness. Sometimes patients can lose their identity as the result of an ill-considered rhinoplasty, as in the case of Jennifer Grey who starred in Dirty Dancing and Ferris Bueller's Day Off. Grey had difficulty finding roles following what was a technically excellent rhinoplasty.
Dr. Boyd will make you aware of the pros and cons of undergoing rhinoplasty in your particular case; however, it is probably true to say that you should never settle for a nose you hate!
6.  Do I have to undergo surgery, or can I get rhinoplasty with fillers?
A so-called "non-surgical nose job" can use fillers can make subtle adjustments to the appearance of the nose, such as filling in depressions along the nasal bridge. However, these results are only temporary. Fillers cannot alter the basic nasal structure, which is the primary concern for many rhinoplasty candidates. Neither can they reduce the size of a nose or remove a bony hump. They also present greater risks when used in the nose than when used in other areas of the face. For permanent results and more significant improvements, rhinoplasty is the only option.
7.  When will I look normal after rhinoplasty?
Bruising usually resolves by two weeks after surgery, and most of the major swelling subsides shortly after that. Therefore, you will look "normal" only a few weeks after surgery. Patients may return to work before the two-week mark and use makeup to disguise any bruising. However, some internal swelling and healing will continue for up to a year, causing subtle changes to the appearance of the nose until your final results are revealed.
8.  When can I wear glasses after rhinoplasty?
Generally speaking, you should not wear glasses directly on your nose for several weeks after surgery, especially if you received nasal bone fractures. If you require corrective lenses, consider wearing contacts for the first month after surgery. Alternatively, you could wear a removable splint to disperse the weight of the glasses during this time.
9.  When can I blow my nose after rhinoplasty?
Most surgeons agree that you should wait at least one week before blowing your nose, though many recommend waiting three weeks or more. As it can vary from patient to patient, you should contact Dr. Boyd for a personal recommendation.
10. When can I shower after rhinoplasty?
You can shower the day after your surgery as long as you avoid getting your nose and packing/splint wet. Take care when rinsing your hair, and use a washcloth to cleanse and rinse your face. You should also use warm water instead of hot water, as steam will likely increase swelling.
11. When can I exercise after rhinoplasty?
Dr. Boyd recommends waiting a minimum of three to six weeks before exercising after rhinoplasty. You especially want to avoid any risk of damage to the nose during the initial healing process.
12. When can I swim after rhinoplasty?
Dr. Boyd recommends waiting a minimum of three to six weeks. Water can shift the nasal tissues before they 'set' and become resilient enough to handle it.
13. When can I drink alcohol after rhinoplasty?
You may resume responsible alcohol consumption once you are no longer taking pain medications. Mixing pain medications with alcohol can lead to serious health issues.
14. When can I smoke after rhinoplasty?
Patients should quit smoking for at least four weeks before and four weeks after rhinoplasty. You will be better off if you do not take up smoking again at any point after your surgery.
15. When will I be able to breathe through my nose after rhinoplasty?
Breathing through your nose after rhinoplasty tends to become easier as early as one week after surgery. Nasal breathing will improve over the following weeks and will generally feel back to normal by one to two months after surgery. Patients who undergo a combination rhinoplasty/septoplasty should find nasal breathing to be easier one to two months after surgery than it ever was before surgery.
See more questions and answers in 29 Questions About Rhinoplasty: Part 2!
To learn more about rhinoplasty, schedule your personal consultation with our board-certified plastic surgeon, Dr. Brian Boyd. Call us at 310.597.4734 or fill out our online contact form to request your appointment today.