Brazilian Butt Lift in Los Angeles
What Is the
Brazilian Butt Lift?
---
Many of our patients with otherwise shapely figures lack that attractive rounded prominence that only a full set of buns confers. Such patients are frequently hesitant to don bathing trunks or a bikini much to the puzzlement of their friends. Their lack of rear projection saps their self confidence and reduces them to ridiculous artifices to cover their behinds.
Butt augmentation using fat transfer, commonly referred to as the Brazilian Butt Lift, is a procedure that harvests fat from one area of the body and uses it to improve the contours of the buttocks by enhancing their size and shape. The result is beautiful, shapely buttocks that are complementary to the rest of the physique. Schedule a Brazilian Butt Lift Consultation with Dr. J. Brian Boyd in South Bay.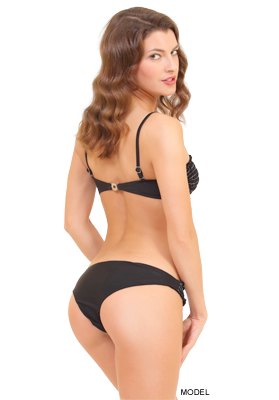 What to Expect From the
Procedure
---
Liposuction
The fat transfer technique uses Liposuction to harvest fat from an area of the body where fat is actually in excess

Common areas include the abdomen, hips, and thighs.

A small, thin hollow tube (cannula), with a hole at the side of its tip and connected to a vacuum machine is passed through small incisions, then moved in and out in order to suction and scrape out the excess fat.
Fat Injections
Once harvested by liposuction, the fat is cleaned of blood and oils.
Large volumes of fat are then injected, small aliquots at a time, filling up the tissues of the buttocks – both muscle and subcutaneous tissue – until an attractive rounded shape is obtained.
Things To Consider
Before Deciding
---
Male or female patients who want a voluminous and shapely posterior or who desire to correct asymmetrical buttocks may be interested in the Brazilian Butt Lift. However, the fat transfer technique requires them to have pre-existing donor areas with excess fat. Therefore, ideal patients will have enough unwanted fat in some other area of the body. It is important that the patient is physically healthy and has already tried traditional dieting and exercise methods but failed to attain the desired results.
Schedule a Consultation With Dr. Boyd
Breast and Body
Rejuventation
---
Frequently Asked
Questions