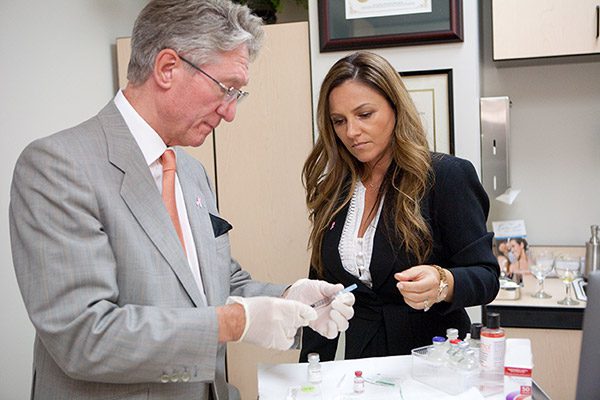 There are a number of techniques to rejuvenate the skin by non-surgical means. It has long been observed that after a burn blister has peeled off the underlying 'new' skin is tighter, unlined, unblemished and as smooth as the proverbial 'baby's bottom.'
Most of our techniques rely on replicating the effect of a burn. This involves the production of a partial thickness injury – equivalent to a first- or second-degree burn. These techniques include laser, demabrasion and chemical peels. The beneficial effect is related to the depth of the injury: generally, deeper is better. However complications are also related to depth of injury. These include depigmentation, ulceration and scarring. A good result relies on a compromise whereby a safe depth of injury is produced and a good cosmetic outcome obtained.
My preference is the Trichloracetic (TCA) 'chemical peel.' TCA is an acid related to vinegar (acetic acid), but somewhat stronger. Used in different concentrations it may be safely employed on the eyelids, face, neck, chest and back of the hands. Its effects are self limiting and predictable. It can be used in the office and an anesthetic is not required. It may be repeated (usually every 2 years). The peel stings for about 10 minutes, before numbness sets in. Over the first week, the skin peels as with a bad sunburn. The new skin is pink and smooth. Sunspots and blemishes come to the surface and are simply peeled off. They do tend to return over 18 months, but as mentioned above, the peel may be repeated. Skin peels may be done by themselves or to augment the effect of facelift or blepharoplasty.