What Is
Liposuction?
---
Stubborn fat accumulations may be preventing you from achieving the slim, curvaceous silhouette you desire. Many patients complain of excess fatty tissue in localized areas that are resistant to diet and exercise. Liposuction is a fat removal technique that utilizes minimal incisions to vacuum suction out unwanted adipose tissue. By eliminating unattractive fat deposits, Dr. Boyd can aesthetically reshape your curves producing a more attractive body contour. Schedule a Liposuction consultation with Dr. J. Brian Boyd in South Bay.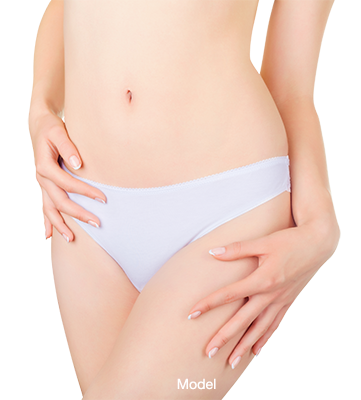 What Are the Benefits of
Liposuction
Reduces fat in targeted areas for a slimmer contour and improved shape
Utilizes small tiny incisions for minimal scarring
Is effective in many anatomical areas, including the back
Treats areas that conservative fat removal methods can only minimally change
Schedule a Consultation With Dr. Boyd
Common Areas Treated by
Liposuction
---
Abdomen
Fat accumulations in the abdomen can prevent you from having the toned contours you desire. You may have lost your waist or developed a paunch. Clothing may not fit properly, and you may have visible, unsightly bulges. Liposuction removes fat from the abdomen producing more attractive and athletic abdominal contours.
Arms
Fat can accumulate on the underside of the upper arms and near the armpits, affecting how confident you feel in certain types of tops. Fat removal from the arms can slim their appearance and help reveal more muscular definition.
Buttocks
Fatty tissue associated with the buttocks can be poorly distributed, making your bottom appear undefined, or maybe even square. Liposuction can eliminate fat from the buttocks to create a more attractive, rounded, and defined booty.
Neck
A fatty neck can cause jowls and a 'double chin' that significantly age your look. Liposuction can remove fat under the chin to restore a slimmer and more graceful appearance. Improving definition in the neck and jawline can erase years from your facial appearance.
Thighs
Excess fat on the inner thighs can cause uncomfortable chafing, while fat on the outer thighs can cause the appearance of "saddlebags." Selective fat removal from the thighs can improve their shape, restore a toned thigh appearance, and relieve uncomfortable chafing.
Hips
Fat accumulations on the hips can cause an unsightly and uncomfortable "muffin top." Such areas can be targeted by liposuction to create more attractive curves and a more slender silhouette with better hip and waist definition.
What Are My Liposuction
Options?
During liposuction, Dr. Boyd sculpts and contours your body by eliminating excess fat deposits that resist exercise or diet. Dr. Boyd carries out liposuction by hand using a traditional 'superwet' technique.
Below is an overview of two common liposuction procedures.
---
How Is Traditional Liposuction Performed?
Due to its invasive nature, this process requires the use of IV sedation or general anesthesia. However, a surgeon may use local anesthesia if the treatment area is relatively small.
With the traditional technique, Dr. Boyd makes small incisions around the treated surfaces. These incisions are intended to accommodate instruments — known as cannulas — each one measuring only a few millimeters in diameter. Surgeons use these cannulas to scrape away fat cells and remove them by suction.
Dr. Boyd inserts the cannula under the skin and manually disrupts and curettes these fat deposits. This cannula is linked to an aspiration device used to suction the unwanted fat cells out of the patient's body.
How Is Ultrasonic Liposuction Performed?
Also known as ultrasound-assisted liposuction (UAL), ultrasonic liposuction involves energizing a solid cannula with ultrasound in order to liquify the fat. The surgeon inserts a rod into the patient's tissues that delivers ultrasonic energy. This stimulates the fat to 'melt' on contact — the ultrasound vibration literally bursts the fat cell walls. This liquefies or emulsifies the fat, making it easier to suction out of the body. A great deal of heat is produced within the tissues. As a result, complications such as seromas (fluid accumulations) and burns of the skin are a significant risk.
Ultrasonic liposuction was designed for fibrous areas, like the male breast, or the back. After ultrasonic treatment, the surgeon performs regular suction-assisted liposuction to eliminate the liquefied/emulsified fat.
Dr. Boyd tries to avoid this modality due to its potential for complications. Although certainly quick, he likens it to taking away the hammer and chisel of Michaelangelo and replacing them with a chainsaw!
Am I a
Liposuction Candidate?
---
Ideal liposuction patients are of normal or slim build. It is NOT a good treatment for generalized obesity. Ideal patients have good general skin tone with localized pockets of fat spoiling the natural and attractive contours of the body. People who are severely overweight or who have poor skin elasticity are poor candidates. However, each case is unique, and people seeking liposuction are evaluated by Dr. Boyd on a patient-by-patient basis to determine whether liposuction is the right treatment for him or her.
Schedule a Consultation With Dr. Boyd
Frequently Asked
Questions