Dr. J. Brian Boyd Releases New Book
Posted May 15, 2015 in Uncategorized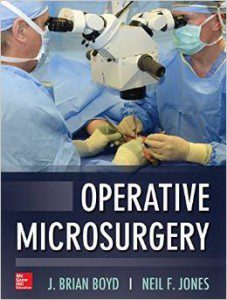 Dr. J. Brian Boyd, a renowned plastic and reconstructive surgeon, released his latest book in January 2015. Operative Microsurgery, co-edited with hand surgeon Dr. Neil F. Jones, is designed to facilitate the learning of both common and advanced microsurgery operations. Plastic, ENT, Hand, and Orthopedic surgeons are aided in mastering these techniques through the book's full-color, step-by-step procedural guide. Operative Microsurgery is a clear and comprehensive text that focuses on microsurgery of the limbs, nerves, brachial plexus, breast, trunk, head, and neck.
Dr. J. Brian Boyd is a board-certified surgeon who has refined his microsurgery skills over his 25 years in practice and now focuses on breast reconstruction and aesthetic surgery. He is currently Professor of Surgery at the UCLA David Geffen School of Medicine and Chief of Plastic Surgery at Harbor-UCLA Medical Center. Dr. Boyd is an associate editor for two major U.S. plastic surgery journals and has had over 120 publications in the scientific literature.
As a breast reconstruction surgeon, Dr. J. Brian Boyd has become a leader in the latest muscle-sparing free flap reconstruction techniques, which allow him to maintain the form and function of the breast while minimizing the donor defect. He also performs a variety of enhancement, rejuvenation, and reconstructive procedures, such as:
Breast augmentation
Breast reduction
Breast reconstruction
Facelift
Rhinoplasty
Secondary rhinoplasty
Body contouring
Brazilian Butt Lift
Dr. J. Brian Boyd's main office is located in Manhattan Beach, but he also serves Hermosa Beach, Redondo Beach, Long Beach, Torrance, Palos Verdes, and the surrounding South Bay, Los Angeles areas. Dr. Boyd believes in treating every one of his patients with respect, attention, and kindness.
If you are seeking breast reconstruction, surgical enhancement, or secondary surgery, schedule your consultation with Dr. J. Brian Boyd today. Contact his office at 310.295.2287 or fill out his online contact form here for more information.