Give Your Butt a Boost With a Brazilian Butt Lift
Posted July 19, 2016 in Brazilian Butt Lift, Butt Augmentation, Fat Transfer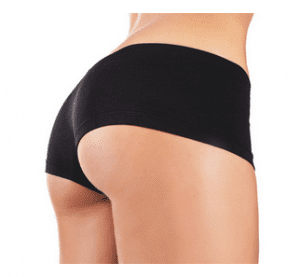 The shape of your butt can do just as much for your figure as full breasts and a flat tummy can. If your butt leaves a little something to be desired, you may want to consider getting a Brazilian Butt Lift. The Brazilian Butt Lift procedure uses a fat transfer technique to harvest fat from one area of your body and graft it into your buttocks to enhance their shape and size.
How the Brazilian Butt Lift Works
A Brazilian Butt Lift is also known as butt augmentation with fat transfer. This procedure requires liposuction and fat injections to produce the desired results. First, liposuction harvests fat from one area of the body where there is an excess of fat cells. The abdomen, thighs, back, and hips are common donor areas for this procedure. Next, the extracted fat cells are purified and then prepared for injection into the buttocks. The fat is then transferred directly into the buttocks to create a more desirable shape and fullness. After a few weeks of recovery and after some of the transferred fat has been reabsorbed by the body, your results will reveal a rounder and shapelier backside.
Enhance Your Buttocks and Your Body Shape
The Brazilian Butt Lift enhances the size, shape, and tilt of the buttocks. Using the fat transfer technique, Dr. Boyd can carefully and artistically inject the harvested fat into the areas where it is most needed. This leads to natural-looking results with only a minimal risk of infection and no need for implants. An additional benefit is that by using fat transfer to augment the buttocks, you can also improve your body shape in other areas. Fat transfer merely redistributes body fat to the areas where it is needed. The Brazilian Butt Lift can give your butt a boost and enhance your entire body shape at the same time.
Dr. Brian Boyd can perform butt augmentation with fat transfer to give you the round, prominent buttocks you desire. To schedule your consultation with Dr. Boyd for the Brazilian Butt Lift, please call (310) 597-4734 or fill out our online contact form to book your appointment today.