How Common Is Breast Asymmetry?
Posted April 29, 2020 in Breast Asymmetry
3 Min Read: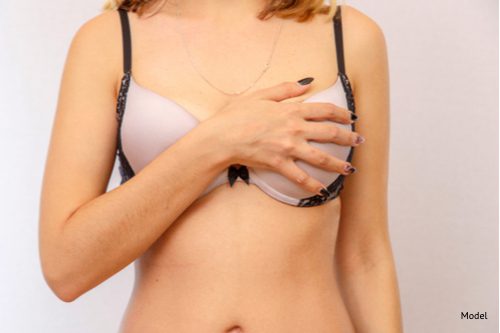 Occasionally, a woman will notice that one cup of her bra fits a little looser than the other. This is a sign of mild breast asymmetry, and it is more common than most women think.
It is estimated that over half of all women experience some degree of breast asymmetry. Fortunately, the asymmetry experienced by the majority of these women is very slight—sometimes not even noticeable to the naked eye. Sadly, however, this is not always the case.
Breast asymmetry is defined as the difference in size, shape, volume, form, or position of the two breasts. For some women, their different-sized breasts are a visible and significant concern.
What Causes Breast Asymmetry?
Hormonal changes, pregnancy, fluctuating body weight, age, and genetics can all contribute to breast asymmetry—and breast asymmetry is not always a consistent matter. Some women find that the shape and density of their breasts temporarily change each month with their menstrual cycle, while others do not experience change until they either become pregnant or reach menopause.
In rare cases, breast asymmetry can be a preliminary symptom of breast cancer, especially if the changes to the breast tissue develop rapidly or cause discomfort. As with all physiological changes, it's a good idea to consult with your primary medical provider if you have noticed recent changes in the size, shape, or density of one or both breasts.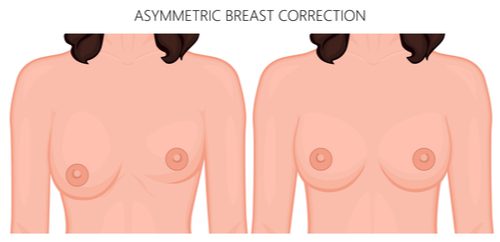 Can Breast Asymmetry Be Corrected?
While some women use custom-made bras, removable prosthetics, or padding to create a balanced look, others opt for a more permanent surgical solution.
Breast asymmetry is surgically corrected by one of three cosmetic procedures: breast augmentation, breast reduction, or breast lift. In many cases, a combination of two of these is used to reshape and elevate one or both breasts to produce a more pleasing and balanced appearance.
Who Is A Good Candidate for Breast Asymmetry Correction Surgery?
Cosmetic breast surgery is usually reserved for patients who have reached adulthood, as natural changes happen throughout puberty.
Women have options when it comes to surgery for breast symmetry. The first step is often choosing which breast they want to match.
Some women decide that they would like their smaller breast to match their larger one. In this case, an implant will be inserted into one breast to achieve volumetric symmetry. It may still be necessary to tighten skin if one hangs lower than the other, or elevate a nipple if one is higher. Sometimes women opt to reduce the size of the larger breast to match the smaller one (breast reduction). In other cases, both breasts are enlarged but the smaller one enlarged more to achieve balance.
It is necessary to stress that most women never achieve full breast symmetry (with or without surgery). Breast enhancement surgery cannot guarantee that there will be no asymmetry; however, any resulting difference between the breasts will be minute and often only visible to the individual.
Want to Learn More About Correcting Breast Asymmetry?
If you are interested in learning more about how breast augmentation, breast reduction, or breast lift surgery can help you achieve more even, balanced breasts, contact Dr. Brian Boyd today by calling (310) 597-4734 or by filling out our online contact form. As a board-certified surgeon, Dr. Boyd has the experience and skills needed to help you decide which breast surgery is right for you.