Using Tissue From the Buttocks for Breast Reconstruction
Posted December 10, 2017 in Breast Reconstruction
More women are diagnosed with breast cancer than any other type of cancer. With current survival rates, there are over 3.3 million breast cancer survivors living in the United States today. Many of these women have undergone a mastectomy or double mastectomy to remove cancerous breast tissue. Complete removal of the breast(s) may be the only option to fully eradicate an individual's breast cancer, but it deprives the woman of her natural feminine curves and can impair her sexual identity. Breast reconstruction is designed to create a natural breast shape and restore a woman's figure after breast cancer. Harvesting tissue from the buttocks is one of the methods used to reshape the breast mound during breast reconstruction.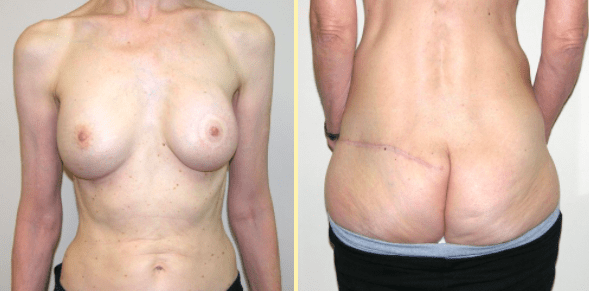 The Procedure
Breast reconstruction is a highly specialized procedure that should be performed by an experienced, board-certified plastic surgeon with fellowship training in microsurgery such as Dr. Brian Boyd. Dr. Boyd works closely with each patient, her breast surgeon, and her oncologist to plan breast reconstruction around chemotherapy and radiation cancer treatments. Dr. Boyd can accommodate patients who require either immediate breast reconstruction (at the same time as the mastectomy) or delayed breast reconstruction (at a later date).
Autogenous breast reconstruction uses free tissue transfer to harvest a large piece of skin and fat (a 'flap') from a donor site and transfer it to the chest. The abdomen is the most commonly used harvest site, but tissue may also be obtained from the back, inner thigh, or buttocks. The tissue from the buttocks (the SGAP flap) is comprised of skin and fat only, not muscle. Once harvested, the SGAP flap is transferred to the chest where its blood circulation is restored by microsurgery and it is shaped to reconstruct a natural-looking breast.
The Benefits of This Technique
Using tissue from the buttocks for breast reconstruction has several benefits. First, it is easy to match the tissue and create a breast that looks and feels natural, especially for patients who have had only one breast removed. Compared to the older technique of using a TRAM flap, patients can expect a faster recovery and fewer risks. Removing tissue from the buttocks and relocating it to the breast gives a subtle butt lift. Patients who are too thin to use a DIEP flap from the abdomen may often be able to utilize buttock tissue instead of having an implant-based reconstruction. Dr. Boyd can help you decide whether breast reconstruction using tissue from the buttocks, tissue from another area, or implant-based breast reconstruction is best for your needs.