Tummy Tuck in Los Angeles
Many people are left with sagging abdominal skin after significant weight loss or childbirth. This hanging skin is resistant to diet and exercise, making it even more frustrating. When you spend time and energy losing weight, it can be disappointing when you are not fully satisfied with your results.
Dr. Boyd offers tummy tuck surgery in Los Angeles to help patients feel comfortable in their bodies. Whether you are going to the beach or walking around in the Beverly Hills triangle, you deserve to feel confident.
What Is a Tummy Tuck?
A tummy tuck, or abdominoplasty, is a surgical procedure that removes excess skin and fat from the abdomen to create a tighter, slimmer appearance.
Am I a Candidate for Tummy Tuck Surgery?
You may be a candidate for tummy tuck surgery if you experience sagging, wrinkled, or loose skin on your abdomen. Candidates for abdominoplasty are in generally good health, have realistic expectations of their results, and do not smoke.
Since abdominoplasty is not a weight-loss procedure, you should be at or near your ideal weight before undergoing surgery.
How Is Abdominoplasty Performed?
The techniques used for your abdominoplasty will depend on the amount of correction needed and your goals for the surgery.
Dr. Boyd will begin your abdominoplasty procedure by making a horizontal incision along the lower abdomen, just above your pubic area. He will then remove excess fat and skin and tighten the lower abdominal muscles. Dr. Boyd will trim away excess skin and, in most cases, reposition the naval. Incisions are then closed, leaving a low transverse scar just above the pubis that is hidden inside your bikini bottom.
Patients undergoing a tummy tuck may benefit from combining their procedure with liposuction to eliminate stubborn fat in the hips and waist.
What Is the Recovery From a Tummy Tuck Like?
You will wear a compression garment immediately after surgery to improve circulation and promote healing. Please spend the first few days after your procedure resting. You may experience pain and discomfort for the first couple of weeks; this is normal. Any pain can be managed with prescription or over-the-counter medication.
All strenuous activity should be avoided for at least four to six weeks. However, most patients can return to work in two to three weeks.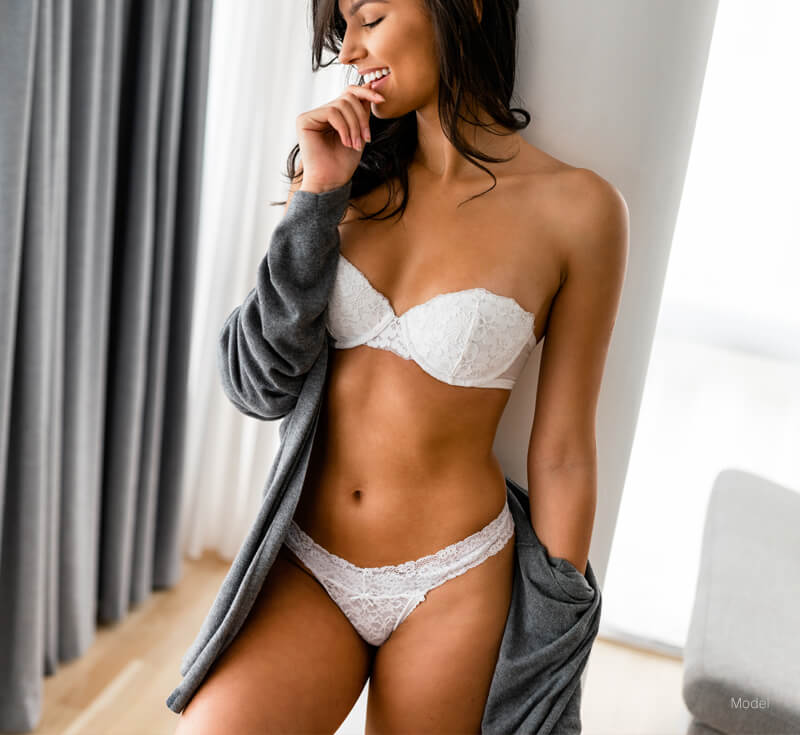 What Are the Results of Tummy Tuck?
After a tummy tuck, you should experience a significant reduction in the amount of excess skin on your abdomen. As a result, you will have an overall slimmer, more comfortable appearance.
Results will be visible as soon as swelling and bruising subside.

How Much Does a Tummy Tuck Cost in Los Angeles?
The cost of your tummy tuck will depend on the surgical techniques used, anesthesia fees, surgeon fees, operating room fees, and the procedure's location.
Please schedule a consultation with Dr. Boyd to receive an estimated financial plan.
How to Find Us
Our office is located at 550 Deep Valley Drive, Suite 283, Rolling Hills Estates, CA.
To reach our office, we recommend taking the 1 or the 110 toward Palos Verdes. Then take either Hawthorne Boulevard or Palos Verdes Drive North to Silver Spur Road. We are on the left side of the street, a block after the intersection of Hawthrone and Silver Spur.
Frequently Asked Questions About Tummy Tuck Surgery?
What type of anesthesia is used for abdominoplasty?
Abdominoplasty is performed under general anesthesia to keep you comfortable.
What are the risks of a tummy tuck?
When performed by a board-certified plastic surgeon such as Dr. Boyd, tummy tuck surgery is generally safe. However, risks are still present.
These risks include:
Bleeding
Injection
Asymmetry
Fluid accumulation
Anesthesia risks
Interested in Learning More?
If you are interested in learning more about how you can benefit from a tummy tuck in Los Angeles, California, please contact Dr. Boyd's office by calling (310) 295-2287.