10 Ways Breast Reduction Could Change Your Life
Posted June 29, 2017 in Breast Reduction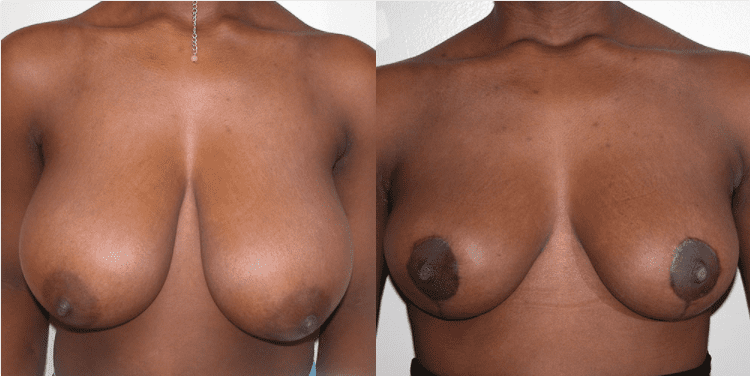 Women with large, heavy, pendulous, or disproportionate breasts may suffer from a lower quality of life than they could potentially enjoy. Breast reduction could change your life in profound ways by enhancing your figure, balancing your body proportions, and liberating you from physical, mental, and emotional issues caused by oversized breasts.
1. Get Rid of Chronic Pain
One of the most commonly cited reasons for women to undergo breast reduction is chronic pain. The constant weight of massive breasts pulling downward on the chest can lead to neck pain, shoulder pain, headaches, back pain, and poor posture that contributes to additional back pain. Breast reduction surgery can alleviate chronic pain or other health issues so that you no longer have to deal with continual physical distress on account of your body.
2. Prevent Shoulder Grooves
Shoulder grooves are another common side effect of oversized breasts. These develop over time due to the pressure of overtaxed bra straps that are ill-suited to holding the weight of the breasts. A breast reduction can reduce pressure on the bra straps so that the straps rest gently on the shoulders without digging into the skin and leaving permanent marks.
3. Stop Uncomfortable Chafing
When breasts are so large that they hang against the skin of the upper abdomen, this can lead to uncomfortable chafing. Skin rashes or other skin conditions are by no means uncommon in large-busted women and can often be found along the breast crease. Through breast reduction, excess tissue is removed and the breasts are lifted and raised so that they do not chafe or rub the upper abdomen.
4. Improve Your Clothing Options
Clothing options for women with oversized breasts tend to be limited. Many clothing styles are not designed for well-endowed women, which means that even if certain articles of clothing are technically the "right size," they may not look flattering on you. Some clothing styles, such as button-up blouses, plunging necklines, and backless dresses, simply do not work. Bra shopping is likewise difficult, time-consuming, and expensive. By reducing the size of your breasts, you can increase the options for your wardrobe. After breast reduction, clothes shopping can be easier, more enjoyable, and more rewarding.
5. Eliminate Unwanted Attention
One of the key frustrations with having overly large breasts is the attention that they often generate. Many women feel or observe that strangers stare at their breasts instead of looking at their faces. Some are humiliated by catcalls or worse. A breast reduction can reduce this unwanted attention in addition to your breast size and allow your overall beauty to shine through.
6. Improve Your Comfort
Lying on your stomach, wearing certain articles of clothing, going running, and even strapping on a seatbelt can all be uncomfortable for a woman with large breasts. At night, large breasts can ride up and even interfere with breathing. Daily inconveniences and physical discomforts may cause you to feel like you can never be comfortable in your own skin. A breast reduction reduces the source of these discomforts by rendering your breasts to a more moderate size and improving your comfort levels.
7. Straighten Your Posture
Carrying several pounds of heavy breast tissue on your chest 24/7 may lead to a habit of slouching. Ultimately, this bad posture could contribute to back pain, poor digestion, varicose veins, and even skeletal deformities such as changes to your spinal curvature. Reducing breast size to relieve the weight on the chest can help you stand up straighter and correct your posture.
8. Balance Your Figure
Even though large breasts can occur naturally, it does not mean that they look natural. A woman with oversized breasts could look disproportionate, top heavy, and off balance. A breast reduction can enhance your figure by creating a more natural-looking balance between your bust and hips.
9. Liberate/Free Yourself From Limitations
When oversized breasts affect your choices in life, they become a limitation. You should not have to avoid certain types of exercise (or exercise altogether) because it is too painful with large breasts. You should not have to refuse to wear a bathing suit or other revealing clothing because of the unwanted attention you receive. Neither should you feel limited in your capacity at work, in social settings, and in other areas because of your breast size. Removing a literal physical weight from your body through breast reduction can be incredibly liberating. You will be freed from these types of limitations and can finally feel confident pursuing those activities you may have avoided in the past.
10. Boost Your Body Image and Self-Esteem
The many problems that can result from having overly large breasts may weigh you down emotionally and mentally as well as physically. Chronic pain can affect your mental state, and the unwanted attention, limitations, discomfort, poor clothing options, and other side effects of large breasts can contribute to negative emotions and low self-esteem. After breast reduction, it is quite common for women to experience a boost in self-confidence, body image, and self-esteem.
Breast reduction surgery can enhance your image and improve the quality of your life by decreasing the physical size of your breasts. These and other compelling reasons to get breast reduction surgery are positive indicators of how breast reduction could change your life forever. If you would like to learn more, contact our board-certified plastic surgeon, Dr. Brian Boyd, for your personal consultation for breast reduction surgery. Please call 310.597.4734 or complete our online contact form to reach us today.