Post-Pregnancy Body Issues
Posted May 17, 2017 in Breast Augmentation, Breast Lift, Breast Reduction, Liposuction, Mommy Makeover, Tummy Tuck
Pregnancy is a beautiful and unique time for most women. Your body is giving life to another human being! However, even though it is truly miraculous, pregnancy often comes at a cost. Women's bodies can be permanently altered in undesirable ways as a result of pregnancy. If you have issues with your post-pregnancy body, you can improve your figure while boosting your self-esteem and self-confidence by undergoing a number of cosmetic body procedures.
Tummy Tuck Surgery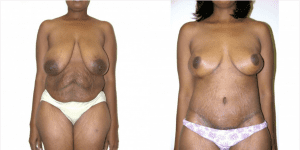 As pregnancy progresses, the organs in the abdominal cavity are pushed out of the way to make more space for the growing baby. The stomach muscles become stretched loose, and the skin expands very rapidly as the baby grows. After childbirth, many women have permanent reminders of their pregnancy, such as loose, hanging skin, diastasis recti (separated abdominal muscles), and stubborn belly fat. A tummy tuck can correct each of these issues and restore a flat, firm, and beautifully contoured abdomen.
Breast Surgeries
During pregnancy and breastfeeding, the breasts can change in volume, shape, and tone. In some young mothers, these changes are minimal; however, in others, they are quite significant. Sometimes, the breasts may remain forever enlarged; other times, they may shrink down and even end up smaller. The breasts may lose their shape permanently, and in many cases, sag prematurely. Occasionally, the two breasts change in different ways, resulting in previously symmetrical breasts becoming uneven. Various breast surgeries can restore the appearance of your breasts after pregnancy and nursing:
Breast Augmentation

:

Dr. Boyd can insert implants to fill out deflated breasts and restore firmness, volume, and shape.

Breast Reduction

:

Dr. Boyd can remove excess breast tissue and skin to improve breast size in proportion to the rest of the body.

Breast Lift

:

Dr. Boyd can remove sagging skin and tighten the breast tissues to improve their shape, position, and firmness.
Some of these procedures may also be combined—for instance, breast augmentation can include a lift if there is sagging in addition to volume depletion.
Liposuction
Pregnancy typically leads to unwanted fat accumulation in different parts of the body. Some women are successful in ridding their post-pregnancy bodies of the excess fat, while others are not. When diet and exercise are not effective, liposuction can successfully target your trouble areas to improve your body contours and restore proportion to your figure after pregnancy.
Mommy Makeover
Some patients have only one post-pregnancy body issue, while others have multiple concerns. If there are several issues you'd like to improve, a Mommy Makeover could be just what you need. Mommy Makeover surgery combines multiple procedures together to accomplish several purposes in one sitting. For example, a Mommy Makeover could combine liposuction with a tummy tuck, breast augmentation, and breast lift to more fully transform a woman's figure. The Mommy Makeover is customized for each patient and can include a combination of virtually any of the procedures outlined above. Specifically designed for women post-pregnancy, the Mommy Makeover can help women who have completed their families achieve the toned, shapely, and youthful bodies they had before sacrificing them for the good of the human race.
Board-certified plastic surgeon Dr. Brian Boyd is vastly experienced in helping women achieve their aesthetic goals and body contours after pregnancy, weight changes, and/or aging have taken their toll. To learn more about how he can help you, request your personal consultation with Dr. Boyd by calling 310.597.4734 today. For your convenience, you may also contact Dr. Boyd online at any time.