Blepharoplasty Is the Biggest Bang for Your Buck
Posted November 28, 2016 in Eyelid Surgery (Blepharoplasty)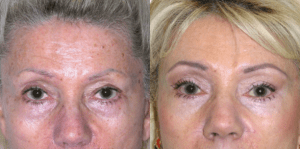 When making important decisions, the most sensible choice is usually the option that will give you the greatest value for the lowest cost. Of all the facial rejuvenation procedures available, blepharoplasty offers the biggest bang for your buck due not only to the overall quality of aesthetic enhancement but also the permanence of the results.
Dramatic Improvements
Over time, aging can cause redundancy of eyelid skin. This excess skin creates wrinkles in the lower eyelids and hooding in the upper eyelids. Additionally, bulging or herniated fat pads can contribute to a puffy appearance in the upper and lower eyelids. Other effects of aging include upper eyelid sagging (ptosis), lax lower eyelids, and conditions where the lower eyelids turn inward or outward (entropion and ectropion). Blepharoplasty can address all of these issues in a single surgical procedure. Dr. Boyd can devise a customized surgical plan for your specific needs and correct each of these signs of aging to rejuvenate and enhance your appearance. The results of blepharoplasty are perhaps more dramatic than any other facial rejuvenation procedure.
Permanent Results
While no plastic surgery procedure can arrest facial aging, eyelid rejuvenation through blepharoplasty produces permanent changes that hold up extremely well over time. Even while time continues to take its toll, the techniques used in this procedure significantly minimize the potential effects of the ongoing aging process. Eyelid hooding is permanently corrected, and fat is redistributed to create a more naturally youthful appearance. The uniquely tailored details of your procedure will produce the most desirable, long-lasting results for your face. Rejuvenation of the eye area helps the whole face look brighter, more youthful, awake, and refreshed.
For more information about blepharoplasty, schedule your personal consultation with board-certified plastic surgeon Dr. Brian Boyd. Call our office at (310) 597-4734, or fill out our online contact form to request your appointment today.