Downsizing Your Breast Implants
Posted April 12, 2017 in Breast Augmentation, Breast Implants, Breast Reduction
One of the most common reasons why women have their breast augmentations revised is to change the size of their implants. As the years go by, there may come a time when you decide to switch to smaller breast implants. Here are some of the more common reasons why women may want to downsize breast implants and how breast revision surgery can improve your breast appearance.
Why Women Downsize Their Breast Implants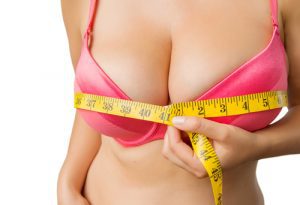 The idea to downsize can come up soon after breast augmentation or as late as several decades later. Some women are immediately unhappy with their breast augmentation results and wish they had gotten smaller implants. It should be stressed, however, that many women who initially feel that their implants are too big will later ask for larger ones! It is, therefore, important to "live with" the implants for at least six months before considering any exchange.This is more likely if patients base their initial choice in implants on the recommendations of others rather than their own opinion. Dissatisfaction with the size can even happen among patients who used a sizing bra during their consultation and underwent surgery with a highly experienced plastic surgeon. Unfortunately, a woman will never know exactly what her results will look like until she undergoes the procedure, and therefore the possibility of dissatisfaction with the size is a risk that all breast augmentation patients must take. An experienced surgeon's expertise, the use of a sizing bra, and close doctor-patient communication can minimize this risk. However, for those who wind up dissatisfied after their surgery, breast revision with an exchange of implants will enhance the appearance of the breasts and give the patient what she wants.
There are many other reasons for wanting to downsize breast implants. Preferences can change, and women may later want a smaller, perkier, and more natural look instead of the voluptuous and curvy appearance they formerly desired. With a weight increase, the breasts may become larger. Age may play a role, as older women are more likely to want to downsize so that they do not feel so heavy or matronly. Social influence can also be an instigator for change, as a woman may be influenced by the perceptions of others and her own desire for social acceptance. Women who were previously quite happy with larger implants may later change their minds because of premature breast sagging due to pregnancy, aging, and the sheer weight of their larger implants. Other reasons have practical roots: women may have regular discomfort or pain from their heavy breasts, or they may be tired of the daily inconveniences and difficulty finding supportive bras and well-fitted clothing. Finally, unanticipated surgical complications such as double bubble deformity or bottoming out may arise from having overly large implants. If a complication occurs, a woman may need to exchange her implants for smaller ones to correct the complication and reduce the risk of its recurrence.
How Breast Revision Surgery Can Improve Your Results
The downsizing of breast implants is increasingly popular as many women are choosing to go smaller. Revisionary breast surgery can replace your breast implants with new ones of a more desirable size. During the procedure, your surgeon will modify the breast pockets and scar capsules as necessary so that they can accommodate the new, smaller implants. As a part of the procedure, many women also need a concurrent breast lift to correct any sagging or excess skin. With revisionary breast surgery, you can have your implants exchanged for smaller ones to give you the more subtle and natural results you desire.
Breast revision surgery with Dr. Brian Boyd could revolutionize your appearance by inserting smaller implants to give you the more petite yet shapely bust you seek. To request your consultation for breast revision with board-certified plastic surgeon Dr. Boyd, please call 310.597.4734 or contact us online today. We look forward to helping you achieve your beauty goals!