Eliminate Back Folds With Body Contouring
Posted January 08, 2016 in Body Contouring Procedures, Liposuction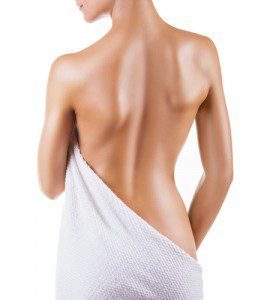 When the human body gains excess weight, it develops pockets of fat in areas such as the lower abdomen, the thighs, the upper arms, and the back. In the case of the back the result is three or four 'back rolls' separated by prominent skin creases. While weight training can help to tone certain areas of the body, the back is one of the most difficult areas to tone. Losing weight may help to reduce excess back fat but often fails to eliminate the skin folds. Dr. Brian Boyd can perform body contouring procedures to improve your figure by eliminating back bulges and back folds.
What Are Back Folds?
Back folds result from excessive subcutaneous fat deposition especially underneath the bra line. Fat deposits form along the back due to excessive weight gain. Fibrous connections between the skin and deep fascia cause the folds to form since they do not stretch, allowing skin and fat to bulge between them. Skin elasticity naturally diminishes as the body ages, causing skin to hang more loosely on the body. After large amounts of fat have been lost or removed, stretched-out skin may or may not contract. Consequently, the loose skin that is no longer supported by fat may hang from the body in folds.
Which Procedures Can Eliminate Back Folds?
For the majority of patients with back fat bulges, liposuction may serve to effectively eliminate unwanted fat. In most individuals with good skin quality, liposuction alone may be all that is needed as the skin will naturally contract to rest flat against the underlying tissues. For those with poor skin tone and lots of loose skin, liposuction may be unable to resolve the issue. A body lift or other body contouring surgery can remove excess skin and fat and tighten the remaining tissues to improve the tone and shape of the back. Body contouring to eliminate back folds is usually necessary for individuals who have experienced massive weight loss as a result of severe dieting or bariatric surgery. While surgery to remove back folds will leave some scarring, incisions are placed as inconspicuously as possible to minimize the appearance of scars. Any scarring will also fade over time, and most patients feel that scarring is a small price to pay to eliminate unsightly back folds and fat bulges.
Dr. Brian Boyd is a board-certified plastic surgeon and can improve your figure and eliminate back folds with body contouring procedures. To schedule your personal consultation with Dr. Boyd, call (310) 597-4734 or fill out our online contact form today.