Get Bikini Body Ready
Posted March 18, 2015 in Brazilian Butt Lift, Breast Augmentation, Butt Augmentation, Liposuction
March 20th marks the first of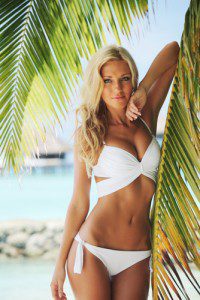 spring, and for us Californians that means beach season is almost upon us (did it ever really go away?). So while the rest of the U.S. is fighting the polar freeze, we are pulling out our shorts, dusting off our swimsuits, and hitting the gym in preparation for summer. If you feel like you might not be ready to strut your stuff just yet, don't worry. These procedures will help you get your bikini body ready in just over a month.
Breast Augmentation
Small breasts may be keeping you from feeling confident in your bikini. Breast augmentation can give you larger, more shapely breasts that will leave you feeling attractive and sexy. Breast augmentation uses implants to increase the size and improve the shape of the breasts. Fat transfer can also be used to increase the breasts up to a cup size. Recovery time for breast augmentation is typically about six weeks. Before you know it, you'll have a new bustline that will be the envy of everyone at the beach.
Liposuction
If you're like many other people, your winter weight may still be hiding in your stomach and thighs. You've been working your butt off at the gym, but apparently your stomach refuses to go. Liposuction can remove stubborn fat deposits on the abdomen, hips, thighs, and back. It slims the body down and restores pleasing contours. Achieve abs that would make any bikini-clad Bond Girl jealous. In about three weeks you'll be ready to have some fun in the sun.
Buttocks
If you're looking for a rounder derrière to fill out your bikini bottom, then the Brazilian butt lift is right for you. This procedure actually provides two beneficial treatments in one; it harvests fat with liposuction and injects it to enhance your buttocks. This provides a totally natural increase in size and can eliminate fat from your abdomen, thighs, and hips. In just over a month, you'll be ready to flaunt your stuff out on the sand.
Don't let dissatisfaction with your body keep you from taking in the rays this summer. Now's the time to get that body you've been desiring. Reclaim your body and enjoy it; you live in California after all!
Call today to schedule your consultation with Dr. Boyd. He can craft your perfect bikini-ready body. Don't wait; call our office at 310.295.2287 or fill out our online contact form here.