Running With Implants
Posted March 10, 2015 in Breast Augmentation, Breast Implants, Lifestyle
How Implants Affect Exercise
When you put in the time, effort, and money to achieve your ideal body, you don't want anything to get in the way. Many women fear that breast implants may impact their ability to exercise and inhibit them from maintaining their beautiful new physique. In addition to the health benefits of exercise, some women find joy and stress relief in running, weightlifting, and sports. Put your fears to rest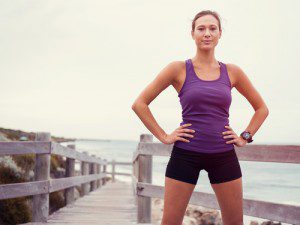 because the implants that will help give you the new body you've been desiring won't prevent you from doing the activities you love.
Wait for the All-Clear
Limiting strenuous physical activity during the first few weeks following your breast augmentation surgery is a vital part of the recovery process. Limiting your activities ensures you heal properly and reduces the chances of developing a complication. I shall tell you when you can slowly resume your regular workout routine.
Take Time to Adjust
It is normal that after getting breast implants you experience an adjustment period while working out. You have two massive objects on your chest that weren't there before! Breast implants can affect the lateral movement of the arm, such as when stretching the arm across the chest. The additional weight may also feel awkward to move around with at first. Neither of these should affect your long-term ability to exercise; it will simply take a little time to adjust to your implants' presence.
Expect to be Self-Conscious!
The most common complaint many women have about running with breast implants is how they change their style of running. For some women, they find that they run less aggressively or less freely after getting implants. It's not because the implants themselves prevent their ability to perform, but some patients feel self-conscious. Large breasts tend to bounce and move more while running, and some women say that this brings unwanted attention to their breasts.
Get the Proper Support
While you might not run or exercise just like you did with smaller breasts, you can become more comfortable with your new breasts. Researching and finding a supportive sports bra will do wonders in helping you keep the twins in control. The proper support bra will also help relieve the weight of your breasts during your workout.
If you are considering enhancing your beauty through breast augmentation surgery, schedule your consultation with Dr. Brian Boyd today. Dr. Boyd is a published author in the field of plastic surgery and is Chief of Plastic Surgery at Harbor-U.C.L.A. Medical Center. He specializes in aesthetic and reconstructive surgery and has been perfecting his skills over the past 25 years. To discuss how his latest techniques can benefit you, call 310.295.2287 or fill out our online contact form here.