Keeping Your Skin Youthful
Posted February 18, 2015 in Skin Care
Ways to Keep Skin Looking Young and Healthy
Feeling confident about yourself is important, and one of the most important factors in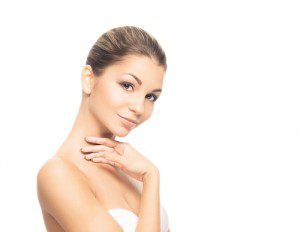 an attractive appearance is youthful skin. Unfortunately, not everyone can put their best appearance forward as they get older due to things like sun exposure and the natural aging process. While cosmetic treatments are safe and perhaps the most effective solutions, there is a variety of daily habits that can help preserve great-looking skin at any age.
Avoid Bar Soap
Bars of soap are highly alkaline, and while they can leave you with a squeaky clean feeling, they dry your skin out. Body washes and shower gels are much better for skin in that they are less acidic and are specifically designed to keep moisture locked in the skin.
Protect Your Skin
Applying sunscreen in the morning and moisturizing cream at night can greatly help to preserve your skin. Try to use broad spectrum sunscreens and creams that contain retinoids, as these protect and revitalize skin the most.
Relax
Stress and sleep deprivation not only affect your mental state, but they take a toll on your skin as well. Getting at least seven hours of sleep every night will help you feel rejuvenated and keep your skin looking youthful for years to come.
Hydrate
Water helps keep your skin hydrated and supple, while coffee and alcohol should be avoided whenever possible, as these drinks can be extremely drying to your skin over the long haul.
If you live in the South Bay area, we encourage you to contact our practice by calling 310.295.2287 or by filling out our online contact form today. With over three decades of experience, Dr. Brian Boyd and his caring staff look forward to seeing you soon!