Mommy Makeovers Aren't Just for Mommies!
Posted September 08, 2015 in Breast Augmentation, Breast Lift, Gynecomastia, Gynecomastia Surgery, Liposuction, Mommy Makeover, Tummy Tuck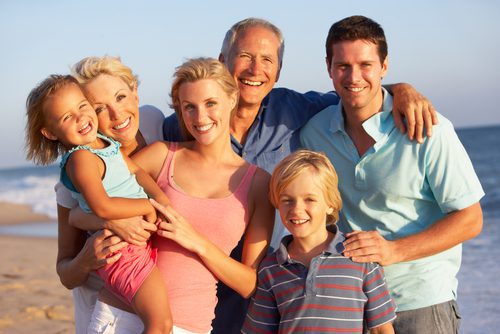 The increasingly popular "mommy makeover" is a combination of procedures that corrects breast and tummy issues caused by pregnancy and childbirth. Mothers' bodies experience huge changes during pregnancy and childbirth, often leaving permanent reminders of the experience. However, stretch marks, sagging skin, fat rolls and empty breasts are not exclusive to mothers. Women and men alike may find themselves in want of similar help due to aging, genetics, and weight fluctuations. Anyone can get a mommy makeover or a similarly customized procedure to help them look and feel like they did before pregnancy, weight changes, or aging took a toll on their bodies. With the expertise of board-certified plastic surgeon Dr. Brian Boyd, you can look and feel as good as you used to.
Traditional Mommy Makeover
Pregnancy and breastfeeding often lead to a loss of breast volume, increasing sagginess, stretch marks, fat rolls, and sagging abdominal skin. The traditional mommy makeover is a combination of procedures to enhance the breasts and abdominal area after a mother is done bearing children. Depending on the needs of the mother, it may include a breast augmentation, breast lift, tummy tuck, and/or liposuction. Since Dr. Boyd performs the procedures concurrently, it's more affordable than doing them independently. The results are dramatic and empowering for mothers, who often feel that they have lost themselves and their bodies due to the bearing of children.
Makeovers for All Women, Including Grand-Mommy Makeovers
Mothers are not the only women who may feel that they have lost their beautiful feminine figures. Women of all ages (including grandmothers!) may find themselves in need of a combination breast/tummy correction procedure to restore their figures. The loose abdominal muscles, deflated breasts, and sagging tummy skin can happen to any woman due to weight fluctuation, aging, or genetics. Where diet and exercise fail, a "mommy makeover" can improve body contours and enhance the breasts to restore women of any age to a more slender and youthful appearance.
Daddy Do-overs and Makeovers for Men
Men also are not immune to the consequences of weight fluctuation, genetics, and aging. Men who experience sagging skin, "man boobs," tummy rolls, and accumulated fat deposits can have them corrected with a similar combination of procedures. Men who cannot achieve their physical goals through diet and exercise can choose male makeovers and daddy do-overs to restore their youthful physique.
No matter who you are or what your body has been through, you deserve to feel comfortable in your own skin. With the help of a combination procedure like the mommy makeover, all women and men can all regain their figures, feel more confident in their bodies, look and feel younger, and even fit better in their clothing. To find out how Dr. Boyd can customize a combination procedure for you, call (310) 295 – 2287 or fill out our online contact form to schedule a private consultation in Manhattan Beach, California.