Sex After Your Tummy Tuck
Posted October 12, 2015 in Plastic Surgery Advice, Recovery, Tummy Tuck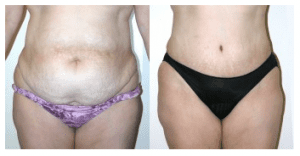 Many women and men choose to undergo tummy tuck surgery because lack of confidence in their bodies prevents them from having the intimate contact they desire. When we don't feel happy with our bodies, it can often become difficult to expose ourselves, even to people who care about us. That's why the question so many people ask after their tummy tuck is, "How long do I have to wait to be intimate with my partner?"
Why Can't You Have Sex Immediately Following?
For those who have undergone a dramatic weight loss or women who have had their bellies stretched by rigors of childbirth, a tummy tuck will likely involve stitching together the abdominal muscles so they appear firm and toned. The muscle tightening aspect of the procedure combined with external abdominal skin suturing is why you can't have sex right after your tummy tuck surgery. It is important to allow your abdomen to heal and your incisions to close before placing stress on them. No matter the position, sex within the first two weeks puts too much stress on your healing body.
How Soon Is Too Soon?
It is impossible to give every person the same recovery period because no two patients are the same. The extent of your procedure and how you recover will both play roles in how soon you can engage in intimacy. Patients who require minimal correction with no muscle tightening may be able to have sex after two weeks. However, for safety reasons, one should preferably wait until at least four weeks after surgery.
You Decide When You Are Ready
After you have given yourself a healthy recovery period, it is up to you to decide when you feel comfortable rekindling the physical romance in your relationship. You should only resume when you feel that your body is capable of handling the strain. When you do decide the time is right, take things slow. Let your body acclimate to the new physical activity. If at any time you are unsure whether it is safe to engage in physical activity following your tummy tuck surgery, consult with your surgeon.
If you are considering tummy tuck surgery or any other plastic surgery procedure, schedule your consultation with Dr. Brian Boyd today. Contact our office at 310.597.4734 or fill out our online contact form for additional information.