What is Scar Revision?
Posted July 31, 2015 in Scar Revision, Skin Care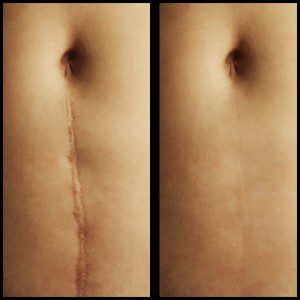 We all have them: our battle scars. Some people choose to wear their scars proudly, especially if the scars have exciting stories behind them. For the rest of us, scars are something we look to avoid and cover up, and we hope they eventually disappear. Unsightly scars can be treated using scar revision techniques.
Scars result when there is an overproduction of collagen fibers during wound healing. This new tissue often has a different color and texture than the surrounding skin, which creates a visible scar. New scars tend to appear red and swollen because there is increased blood flow to the injury site. Scar revision should only be considered once the scar has reached maturation. In many cases, scars naturally fade over time and do not require surgical intervention.
Scarring Factors
While the severity of the wound plays an important role in the formation of a scar, other factors that can alter the chances of scar formation include:
Age of the person
Genetic predisposition
Location of the wound
Healing process
Types of Scars
Scar treatments depend on the extent of scarring and what type of scar forms. Hypertrophic scars are the most common. They are caused by excessive amounts of collagen, giving the scar a raised appearance. Keloid scars occur from an overgrowth of scar tissue. They are raised like hypertrophic scars but tend to be larger than the original wound invading the surrounding tissue. They usually become stiff, hard, and nodular. Sun exposure can cause discoloration of a keloid scar. Common scar formations result from:
Pimples
Body piercings
Cuts
Burns
Scar Treatments
Most scar revision techniques can improve the appearance of the scar, and, in some cases, the size of the scar can be reduced. However, no scar can be fully eliminated.
Scar-reduction products and massage can help prevent and treat mild hypertrophic scars
Cortisone injections can also improve the appearance of hypertrophic scars
Pressure dressings with silicone inserts can help smooth raised scars
An excision technique focuses on creating a new wound and controlling the healing process, resulting in a less prominent scar

Cortisone injections into the new wound can further improve the appearance of the scar

Postoperative radiotherapy is used only in extremely difficult cases
If you wish to see an improvement in the size, color, or overall appearance of an unsightly scar, schedule your consultation with Dr. J. Brian Boyd today. Contact our office by calling 310. 295.2287, or fill out our online contact form for more information.