Comparing the SMAS and the MACS Facelift
Posted April 15, 2016 in Facelift
If you want to turn the clock back to look like a younger version of yourself, a facelift could be the answer. Face lifting enhances and rejuvenates your appearance by removing excess skin, correcting wrinkles, and tightening the deep facial tissues. Dr. Brian Boyd performs either the SMAS or the MACS facelift technique to create a more youthful facial appearance with smoother contours and improved definition.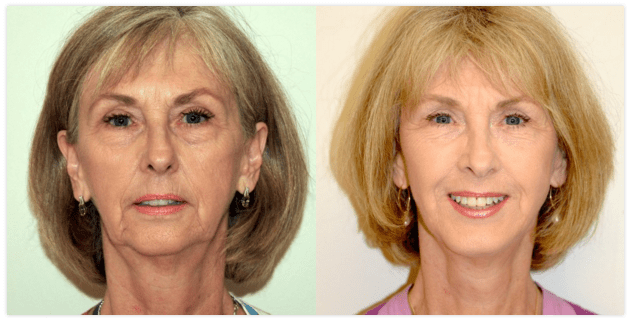 The SMAS Facelift Technique
SMAS is short for superficial musculo-aponeurotic system, which is the thin sheet of muscle and connective tissue deep to the subcutaneous fat in the mid and lower face. The SMAS facelift technique targets both sagging skin and the underlying muscular-aponeurotic structures of the face. For this technique, Dr. Boyd makes incisions in the hairline that extend discretely down in front of and then around the ears. Scars are hidden within the hairline, behind the tragus of the ear, and in the post auricular groove. He then suspends and tightens sagging facial tissues to eliminate the jowls, clean up the neck and, by redraping the facial skin, highlight the new contours of your face. Trimming away excess skin tightens that which is left, and selective weakening of the platysma muscles eliminates visible neck bands. This full facelift technique is usually performed under general anesthesia and is best for those who need significant correction of facial drooping and loose skin. The SMAS facelift dramatically reverses many signs of aging and restores a firmer and more youthful face and neck.
The MACS Facelift Technique
MACS is the acronym for the minimal access cranial suspension technique. This procedure targets mainly the underlying muscular structures of the face and consequently is ideal for those with limited facial sagging and good skin tone. To limit the scar, Dr. Boyd's incision again passes down in the front of each ear from the hairline, but this time ends at the earlobe. He then tightens the facial muscles and may also perform limited undermining and excision of facial skin. This facelift technique is usually performed with the patient under local anesthesia and, since a great deal of skin cannot be removed, is best for younger individuals. The MACS facelift has a faster recovery than the SMAS facelift, as the procedure is less extensive. Like the SMAS facelift, the MACS facelift also reverses many signs of aging to restore smooth and youthful facial contours.
Both the SMAS and the MACS facelift techniques can enhance facial appearance and correct moderate to severe signs of facial aging. If you are not certain which procedure will be best for you, Dr. Boyd can advise you during your consultation. To learn more, schedule your personal facelift consultation with our board-certified plastic surgeon, Dr. Brian Boyd. Call (310) 597-4734 or fill out our online contact form to book your appointment with Dr. Boyd today.