How to Prepare for Your Breast Augmentation
Posted December 16, 2019 in Breast Augmentation
3 min read
There are many different reasons that women choose to undergo breast augmentation surgery, which remains one of the most popular cosmetic procedures in the nation. 
Women all over the country turn to breast augmentation and implants to address issues with the size and appearance of their breasts and to achieve the look they've always wanted. 
Dr. Boyd offers a few different techniques for women seeking breast augmentation (such as a breast lift), and he is committed to ensuring that each patient gets customized care for optimal results.
Choosing to undergo breast augmentation is a significant decision for most women. 
An essential factor, therefore, is that they develop a good relationship with their surgeon and prepare as much as they can before the procedure takes place. 
Some of the things a woman can do to prepare include:
Learning as much as she can about the procedure by attending a thorough consultation with Dr. Boyd. Second visits with a spouse or significant other are encouraged.
Making note of preoperative instructions well before the surgery date.
Collecting relevant information, such as her personal medical history, family history (particularly of breast disease), details of medications taken and known allergies.
Get an idea of what size, shape, and contour she desires her breasts to be. Remember, with Dr. Boyd, the patient is in the driving seat, and it is she alone who will determine exactly what size she wants to be
Your Consultation
When choosing to undergo breast augmentation surgery, the patient will typically schedule a consultation with Dr. Boyd to create a plan of action. 
Decisions, such as what type of implant to use—saline or silicone—the size, and where and how to place the implants, will be discussed. 
Dr. Boyd and his staff will also go over your medical history and address any health issues as well as current and former medications. 
Setting realistic goals before surgery and maintaining them helps increase the odds of getting the results you desire. 
Breast augmentation can work wonders for a woman's self-esteem, and Dr. Boyd's office is committed to ensuring that all women have the best experience. 
Each patient is given all the information needed to make the best decision about their surgery with all her needs, goals, and preferences in mind. 
(You can also view our photo gallery to see before-and-after photos of previous surgeries that Dr. Boyd has performed.)
Surgery Preparation
Preparation for surgery may involve the following: 
Stopping smoking for at least three to six weeks before the procedure, then three to six weeks after.
Taking or adjusting specific medications.
Taking a blood test, urinalysis, EKG or other laboratory scans.
Avoiding alcohol and other substances.
Avoiding anti-inflammatory medications, such as aspirin, which can increase bleeding.
Recovery: What Can I Expect?
There are a few different techniques Dr. Boyd uses for breast augmentation, and each procedure is personalized to the patient, as is the recovery timeline. 
However, breast augmentation surgery is typically low risk, and most patients can go home soon after it has been completed, once Dr. Boyd has cleared them.
Patients should expect soreness, bruising, and swelling in the early days following their procedure. 
Strenuous activity should be avoided for the first four weeks, and care should be taken with the incisions. 
Patients will be asked to wear a support garment day and night for a few weeks after the procedure to help with the healing process. 
Dr. Boyd will provide detailed post-operative instructions to ensure the optimal care necessary for the best possible results.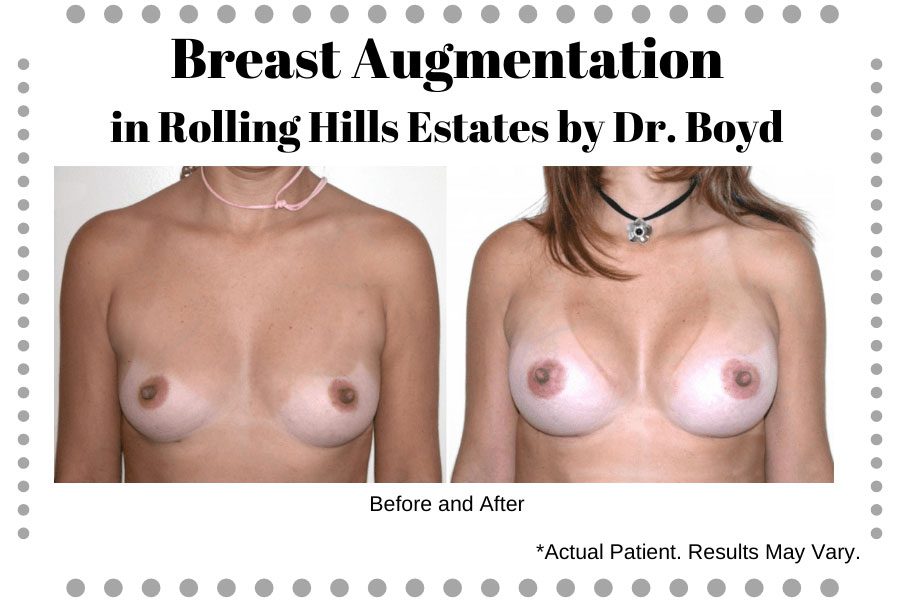 Have More Questions?
Getting breast augmentation surgery can be a life-changing experience. 
Dr. Boyd's office is here to provide technologically advanced breast surgery techniques and genuine patient care to give you incredible results. Call our office at (310) 597-4734 to schedule a consultation or contact us online.